An essential tool for improving your website conversion rate, sooner or later you'll need to create a landing page to complement your traditional email marketing campaigns. Also known as a "lead capture page", "static page" or "destination page", what exactly is it? What are they for? How do you build them, optimize them and use them well? Here you'll find all the keys to successfully turn your landing pages into effective conversion tunnels.
What is a landing page?
Definition
First off, let's take a look at the basics. A landing page… What's that? It's a webpage that's independent of your website which is specially created to support a marketing campaign. Visitors arrive at this page after clicking on one of your campaign links (newsletter, advertising banner, sponsored link on a search engine, etc.). It's an essential element and a central part of marketing campaigns as it allows you to transform lambda visitors into qualified leads or customers by pushing them to take a specific action.
The goal of a landing page: to convert!
For a long time, the goal of any marketer was to generate traffic at their website. However, traffic alone is of little interest if the visitors are anonymous or little or not at all qualified. The purpose of a landing page is precisely to convince net users to take action. What types of actions are we talking about? Well, here are a few examples:
Registering for a newsletter
Creating an online account
Registering for a webinar
Purchasing a specific product or service
Downloading a white book
Requesting a quote
Requesting an online demo
Thus, the goal of any landing page is to turn your visitor's intentions into an action. Yet be careful not to dedicate your landing page to only one single goal as it will no longer be effective!
Sarbacane Pages allows you to create and publish landing pages in just a few clicks. So, if you're still a bit sceptical about the usefulness of landing pages, why not try one out? The increase in your conversion rates will surely convince you. But, you still need to observe a few rules!
The keys to a successful landing page
A powerful title
The title plays an essential role as it will be the first thing any visitor sees to decide whether or not to continue reading. After all, remember your visitor clicked on the link to one of your campaigns so the title must suit the campaign that grabbed their eye in order to keep their attention. Use clear and simple keywords. Go straight to the point!
The CTA: an unstoppable conversion tool
The call-to-action or CTA button has a decisive role in the success of any landing page. Be careful with the text, position and visual look! Play with colour contrasts and choose convincing words.
A responsive landing page
Make sure your landing pages are optimized for all types of devices (computers, tablets, smartphones, etc.). Sarbacane Pages allows you to create a responsive professional landing page in just a few minutes.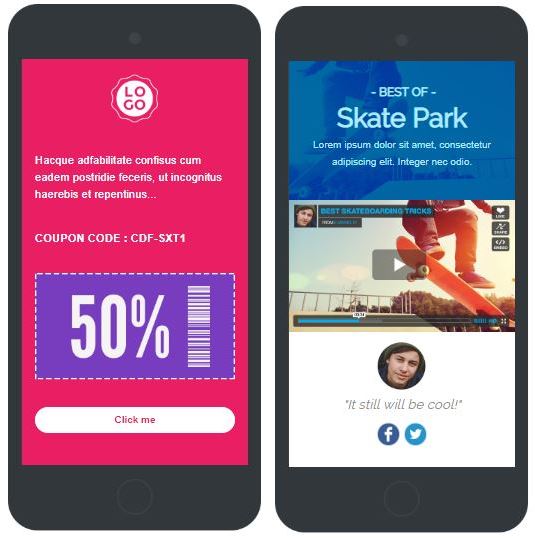 Words that get to the point
Don't waste your time on useless descriptions. Once again, get right to the point. Be transparent and convincing by clearly explaining the benefits for your visitors. Then, add any elements that can reassure visitors like customer testimonials, labels, certificates, etc.
A minimalist, refined design
A minimalist design doesn't mean a neglected design, but rather quite the opposite. Make sure each element of your landing page pushes visitors towards conversion. Use an eloquent visual tool (photo, GIF or video) that illustrates your message and takes visitors straight to your CTA. Create a coherent design for your marketing campaign and website. Avoid including anything that might distract visitors from the goal for your landing page. In fact, that's the reason the navigation menu isn't usually found on a landing page.
A simple data collection form
Although essential for collecting data and classifying your leads, all forms must be as simple as possible. A form that's too complicated or too long may discourage visitors and prevent them from taking action.
Referencing your landing page
When you design your landing page, think about SEO optimization for your text. Working on the natural referencing of all your destination pages will help generate the most traffic.
Position important elements well
As you know, net browsers don't like scrolling. So make sure the most important elements are above the float line: title, CTA, form, user benefits…
Testing your landing page
Just like with emailings, landing pages must be tested. A/B testing allows you to determine which version of your landing page will generate the most leads. Title, CTA, photo, let the statistics decide!
One single goal per landing page!
We mentioned it at the beginning of the article, but this point is worth emphasizing. To maximize the results of your landing page, it must concentrate on one goal and only be used for a specific campaign.
Use Smart Templates to create landing pages that reflect your brand.
Sarbacane's Smart Templates feature analyzes the visual identity of your website based on its URL and automatically generates landing page templates that match your company's branding.
Here is the list of templates you can generate with Smart Templates:
Webinar
Welcome offer
Newsletter signup
Event
Whitepaper
E-commerce
Contest
Loyalty program
BtoB
Referral
To learn more about Smart Templates for landing pages…
If you'd like to significantly increase the conversion rate for your website, you now have all the keys to getting there. The ease of using the Sarbacane interface will allow you to quickly create and implement landing pages all by yourself. In any case, if you'd like some guidance while creating your landing pages, the Sarbacane team of experts will be happy to help you with your projects. So don't wait any longer to start racking up those conversions!